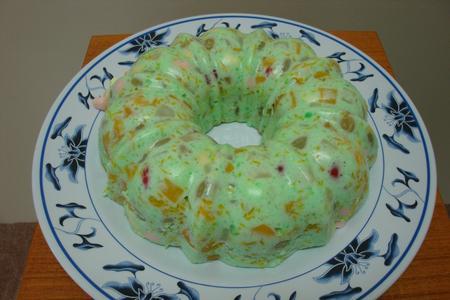 I would like to share with you my Jello Dessert or Jello Mold Recipe.
Blend together the Jello and gelatin. Boil 2 cups of water in a pot, and then add the Jello/gelatin mixture. Stir until completely dissolved. Add an additional 2 cups of cold water and refrigerate. You want the mixture to become really thick but not become completely hard. If this happens warm on the stove and start the chilling process all over again. If mixture is too thin the fruits will float to the top when added so you need to find the right thickness.
While the Jello is being refrigerated, you can prep the other ingredients. Drain the liquid from the fruit cocktail and mandarin oranges and set aside. Beat the whipping cream in a bowl until fluffy. In a separate bowl add the cream cheese and sugar and use the mixer until fully blended. Add the whipping cream to the cream cheese and continue to blend with the mixer. When the Jello is ready add the cream cheese mixture and again combine with the mixer. Now add all the fruit and marshmallows and stir until everything is fully integrated.
Pour into a mold dish (I use the bunt cake mold dish) and refrigerate for a day. When you are ready to serve, put the bottom half of the mold dish in a tub of warm water for a minute. Put a plate over the top and flip it over on to the plate and serve. And yes you will have more than what can fit in the mold dish leaving you a lot of extra to sample.